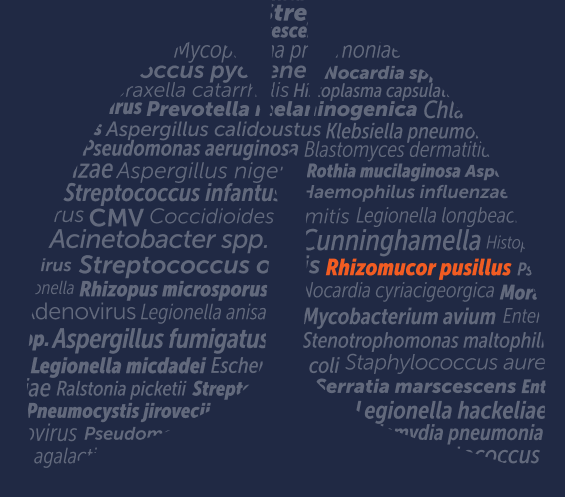 Pneumonia

in the ImmunoCompromised: Use of the Karius Test for the Detection of Undiagnosed
Pathogens
Prospective, multi-center study comparing the Karius Test to Standard of Care in immunocompromised patients being evaluated for pneumonia
Introduction
Pneumonia is the most common infectious cause of morbidity and significant mortality complicating bone marrow transplantation and treatment of hematologic malignancy1,2. Standard bronchoscopic and non-invasive microbiologic testing identifies a causative pathogen in less than half of cases.3, 4, 5, 6
Overview
Prospective, observational study, enrolling over 160 patients
Population: Immunocompromised adults with hematological malignancies or hematopoietic cell transplantation (HCT) with suspicion of pneumonia
Enrolling Centers
Duke University Health
University of Pittsburgh Medical Center
Fred Hutchinson Cancer Research Center
MD Anderson Cancer Center
City of Hope
Tulane Medical Center
University of California, San Francisco Medical Center
University of Colorado Denver
Weill Cornell Medicine
Memorial Sloan Kettering Cancer Center
Results7
The Karius Test (KT) provided a

38.3%

relative increase of the total diagnostic yield in conjunction with invasive and non-invasive standard of care (SOC) testing.
The Karius Test provided additive diagnostic value (ADV) by identifying the probable cause of pneumonia in

15.9%

of immunocompromised patients via adjudication where SOC failed.




Highlights of organisms that the Karius Test identified which SOC missed:
Rhizomucor pusillus
Legionella micdadei
Aspergillus fumigatus
Pneumocystis jirovecii
Conclusion
Adding the Karius Test to the diagnostic workup for identifying causative pathogens in pneumonia improved diagnostic yield over SOC in patients with hematological malignancies or HCT.
Presented at IDWeekTM 2022
A preview of early results on the additive diagnostic value of the Karius Test when used in conjunction with SOC for the diagnosis of suspected pneumonia.
via clinicaltrials.gov
If you would like to stay up to date with this study, please fill form below:
References:
Certan M, et al. Clin Infect Dis. 2022;75(6):1046–1053

Schuster MG, et al. Open Forum Infect Dis. 2017;4(2):ofx050

Batra S et al. Pediatr Blood Cancer. 2015;62(9):1579-1586

Bauer PR et al. Eur Respir J. 2019;54(1)

Hofmeister CC et al. Bone Marrow Transplant. 2006;38(10):693-698

Rano A et al. Thorax. 2001 May;56(5):379-87. doi: 10.1136/thorax.56.5.379.

Bergin S, et al. 2022. PICKUP: Pneumonia in the ImmunoCompromised - Use of the Karius Test for detection of Undiagnosed Pathogens [Abstract]. IDWeek, 19-23 October, Washington, D.C